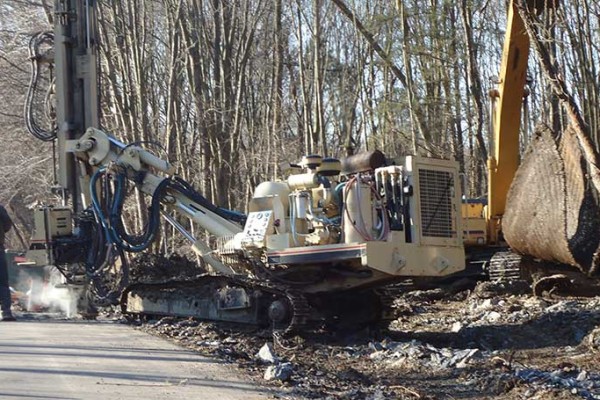 Site Work:
L. Marki welcomes large commercial and municipal projects like the Slate Belt YMCA and Premier Granite & Marble, Inc. in Pen Argyle and The Stroud Industrial Park in Stroudsburg. And, we treat smaller residential jobs with the same gusto.
Our expertise in building rock retaining walls will improve the stability of steep or uneven areas of land. As an added bonus, these handsome walls add architectural beauty to any landscape. Have your existing retaining walls started to sag or bulge? You can count on us to professionally restore them to their original appearance and strength. We have the quarry connections to provide large boulders for any task. Locust Ridge Quarry, Eureka Stone Quarry and Hanson Stone have been providing us with their quality material for decades. We will grade your property, identify and address drainage issues and even do light landscaping by providing clean, quality, screened or unscreened top soil for your project. If desired, we will even seed a lawn. . . All this to complement a completed, professional job.
Digging underground trenches for gas and electric lines is an easy task unless you encounter large boulders along the way. Then, you will be glad to know we have "rock removal know-how"!
We sell, deliver and spread driveway stone of all sizes: 2A, 2B, 1B, Pea Gravel and any other special sizes you require.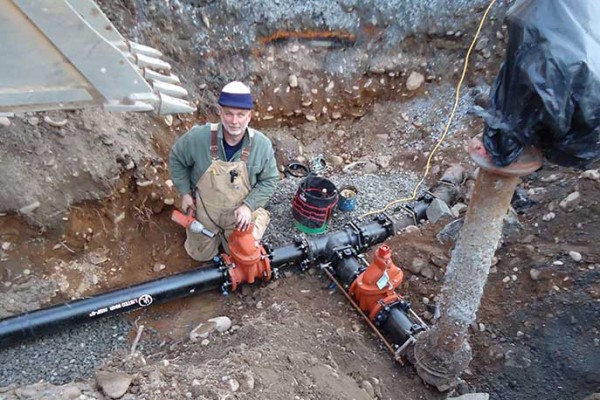 Water & Septic Repair:
We recommend only the best and the more powerful pumps and grinders. ITT Goulds Pumps is among the most widely recognized and respected brands in the global pump industry. Myers was established in 1870 and has built a solid reputation within the industry. Environmental One Corporation (E / One) has been a pioneer of economical sewer systems for difficult land areas. Other fine products we use are manufactured by ADS which has made several significant technological innovations within the industry over the past 25 years. For these reasons L. Marki has built a strong relationship with these companies and their distributors enabling us to receive good service from them so we in turn can offer outstanding service to our customers.
L. Marki & Son can run both water and sewer lines for your new home. We are proud to have the proper safety equipment necessary to connect your sewer line directly to your municipal system located under the public roadway. We have the ability to connect water lines from a municipal system or from a private well to your home.
We possess the skills necessary to locate the damage and repair residential, as well as, municipal water, sewer and septic systems. L. Marki has efficiently completed installation of new municipal sewer and water systems.
No sewer lines where you are building? Let us install a state of the art, new Sand Mound Septic System. Need repair of an older Sand Mound Septic System? We can do that too!
Drainage:
There are no drainage issues for L. Marki. We have the experience and know-how to alleviate any water problems before they occur. Large commercial projects or smaller residential situations are given the same conscientious, quality service. Your foundation and property will be protected from water damage for years to come.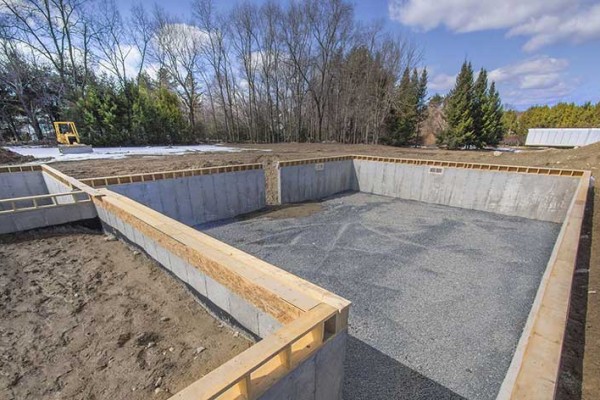 Foundations:
We offer poured concrete or concrete block foundations for both commercial and new home construction. L. Marki will give your structure a firm foundation for years to come. And, while we are at your location, we can pour a concrete basement or garage floor for you as well.